You are here : ENGLISHStudent life
Information about COVID-19 : University closure
Closure of Université of Versailles Saint-Quentin-en-Yvelines until further notice
on the March 18, 2020
Published on March 18th, 2020
France is confronted with exceptional sanitary circumstances. We are called upon by the French government to apply strong and determined measures for the common good and protection of all.
Primarily, this means social distancing and respect of transmission precautions in order to combat the spread of the coronavirus to the entire French population.
All students and staff have to stay at home. Members of staff whose presence is absolutely required on site for the maintenance of essential activities (notably in the laboratories) need a written authorisation by the University's presidency (see below).
All UVSQ campuses and buildings are closed from Monday, March 16th : Saint-Quentin-en-Yvelines, Versailles, Vélizy-Villacoublay, Mantes-en-Yvelines, and Rambouillet.
University libraries and CROUS restaurants are also closed.
All events are cancelled, all gatherings forbidden until further notice. In this context, the following instructions apply:
Distance learning arrangements will be put into place to ensure pedagogical continuity.
All scheduled PhD Thesis defences or HDR defences are postponed.
All programme modifications or placement interruptions will be taken into account. Exceptional, non-penalising measures will be applied for assessment and awarding of degrees. Additional information will be supplied by course leaders, heads of programmes and the university constituent in which a student is enrolled.
Taking these considerations into account, UVSQ, insists upon the importance of teleworking.
As of now, and until further notice, the only staff members authorised to work on-site are those whose duties are considered necessary for the essential functioning of the University. This rule concerns specifically administrative payroll duties and those research activities on-site for which an interruption would lead to a significant loss of essential scientific data or which would be particularly complex or difficult to reorganise. These latter cases will require the express authorisation of the Presidency.
If you have any question regarding online courses, examination, mobility, accomodation and catering, internships or Erasmus, please consult the FAQ (frequently asked questions)
For incoming students, please consult this special FAQ


Reminder of preventive measures to take by all of us:
Wash your hands regularly with soap or a hand sanitizer
Cough and sneeze into your elbow
Use disposable tissues
Do not shake hands to greet people and keep your distance as much as possible, at least 1 metre from other people
All of these measures as well as national guidelines regarding travel, will be updated regularly on the University's website
You can contact the general practitioners of the University Paris-Saclay and the security defence officer at info-covid19@universite-paris-saclay.fr.
If you are sick :
Wear a face mask
Stay at home
Avoid contact with your relatives
Contact the SAMU (dial 15 on your phone) only if you have trouble breathing, otherwise contact a local doctor if you have headache or fever.
Contact the university : cabinet-president@uvsq.fr
In addition, you can find information on the following sites:
Finally, for the general public:
A free number (0 800 130 000) has been set up by the Ministry of Solidarity and Health, open 24/7. However, this telephone platform is not authorized to provide medical advice that is insured by the SAMU emergency centres.
These instructions may change depending on the situation.
To protect yourself and others from Coronavirus: Download the document written in English - (pdf 70.91 KB)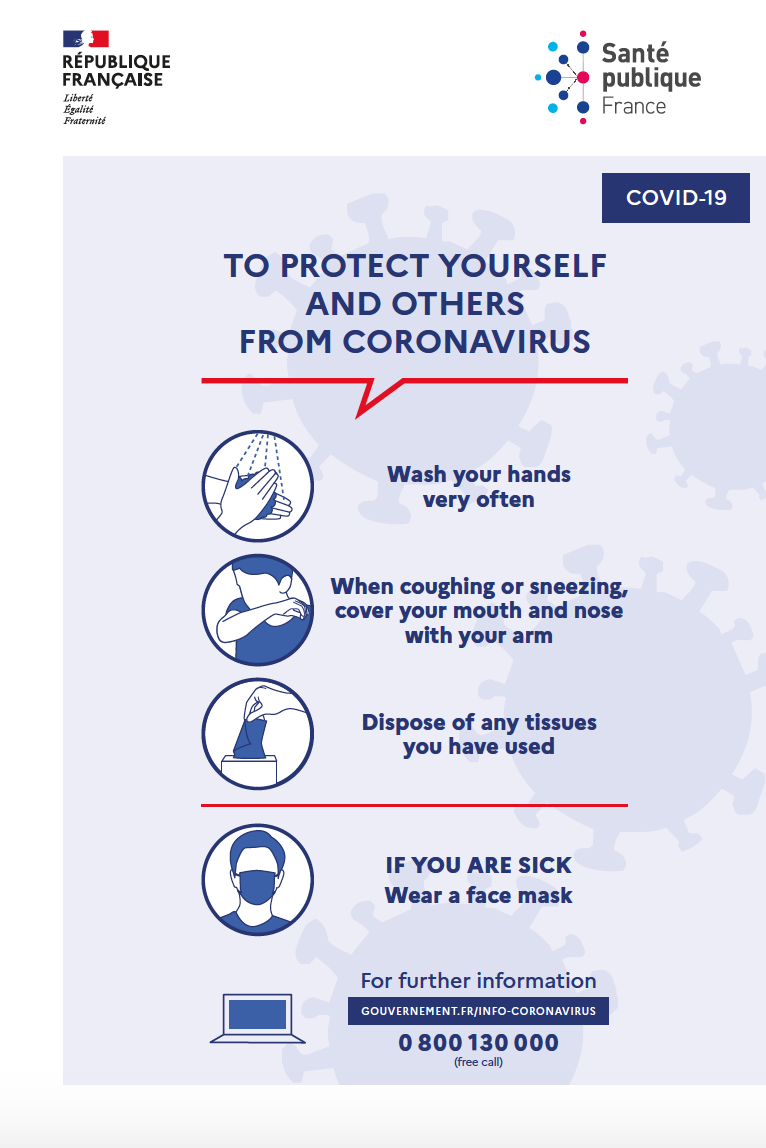 Mission of the student life office
Welcoming students (particularly newcomers and foreign students – resident's permit, welcome kit)
Information (T'DACtu, documentation)
Accommodation: guide, forum, help
Culture: events, festivals, workshops, cultural outings
Associations: subsidies, forum, events, training
Sport through SCAPS: courses, lunch breaks